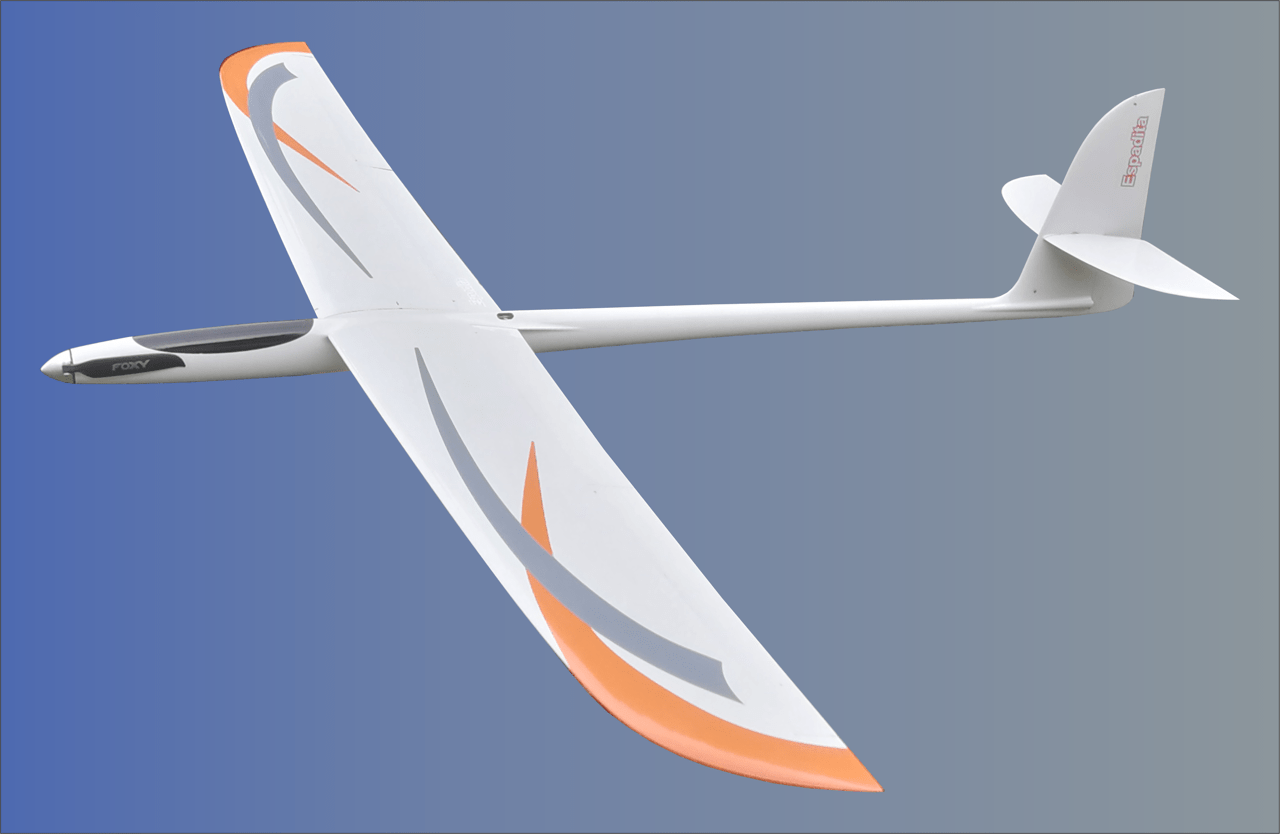 Espadita again in our offer
Espadita: The understatement
When we launched the Espadita in 2009, we were proud to offer a compact model with many forward-looking ideas.
Especially in this model size there were models that could only "fast" or could only be flown slowly with the lowest sinking speed, but target of  the Espadita design was the best possible gliding performance.
And it is still exciting today how this compact 2-meter model implements apparent opposites and circles powerfully in thermals, makes enormous distances despite its low flight weight and pulls through on slopes or in aerobatics.
Due to the high manufacturing costs, the Espadita could never really be cheap, but it became the hoped-for success story.
As part of a planned streamlining of production, their production was discontinued after almost 10 years of production; not least because the molds were worn out due to high production numbers and no longer made economical production possible, at least not with our own quality standards.
This was followed by many calls and e-mails, often downright horrified, that the production of the "benchmark of every 2 meter all-rounder" cannot simply be stopped!
It moved us so much that we have now brought the Espadita back to life in new forms!
Also because we didn't really know what could be improved in the aerodynamic design, all individual parts of the current Espadita are interchangeable with the "old" version.
The many detailed solutions that have since become extremely well-proven in all of our models, such as our FISD rudder linkage (full integrated servo drive), which make all RDS systems look antiquated, have also remained.
Last but not least, these details are also decisive for our current standard in prefabrication; the slogan buy today, fly tomorrow is not easier to achieve with any other equally sophisticated model.
Nevertheless, we have given the current version even more; the wings are now being built using new technology!
Thanks to the full carbon shell, the new wing is even 90 grams lighter than the previously reinforced version, with even better torsional properties and greater rigidity. As a consequence, this reinforced version is now superfluous.
Rather, thanks to the new wing technology, we can now also offer the Espadita in a light version, which has an all-up weight of 940 grams for the electric version and is aimed at all those interested, who are primarily on the move with the model dynamically but more typically for gliding.
The "new" thermal performance surprised us, although the strength limits are still much higher than a modern, dynamic "glider" ever requires, and thus the light version with ballasting becomes a real chameleon with an unbelievable range of uses for this model size leaves.
Not a model for people for whom the size of the model is of primary importance.
All the more, however, the model for all those who are enthusiastic about uncompromising performance and perfect detailed solutions and are looking for a dynamic, modern design with a performance that is fully tailored to the current needs of our time and larger models as little as possible is inferior.
Now all those who have not yet been able to experience our Espadita have the opportunity to  own this compact model .
The electric version significantly expands the range of uses of our Espadita. The wing as well as the horizontal stabilizer, which is designed as a pendulum rudder, are identical in both versions and therefore compatible.
Motors with a diameter of up to 28 mm and a weight of 130-150 grams as well as 3s lipo batteries up to a weight of approx. 90 grams (1000-1300 mAh) find their ideal place in the low-aerodynamic drag fuselage.
Last but not least, thanks to its structural design, this Jaro Müller model is always an incredibly friendly and easy-to-fly model of the highest manufacturing quality. But you could expect that …