Egida colour design
You can choose one of our colorful designs, or create your own design.
If you choose our design, please, enter the order number into the design for the top and bottom of model (for example: top design A3, bottom design J2) .
If you want to create your own color combination in specific color design, download the sample image – Microsoft Paint File (.PNG) and use the Microsoft Paint program (manual click here).
If you find it too expensive, just write us for example: "color design above A, color 1 red, 2 white, 3 JM yellow, 4,5,6,7, white, 8 red, 9 black. Color design below J, color 1,3,6 black, 2 white".
Please use only colors indicated in the sample image.
Do not forget the correct way to the top as well as bottom side.
---
Egida colour design A (top):
Download the sample image – Microsoft Paint File (.PNG) to create your own color combination for Design A: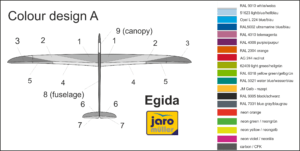 ---
Egida colour design B (top):
Download the sample image – Microsoft Paint File (.PNG) to create your own color combination for Design

B:

Option – sign "Egida" on the right wing:

---
Egida colour design C (top):
Download the sample image – Microsoft Paint File (.PNG) to create your own color combination for Design

 C:

Option – sign "Egida" on the right wing:

(sign color identical to the color of the field "3")
---
Egida colour design D (top):
Download the sample image – Microsoft Paint File (.PNG) to create your own color combination for Design

 D:

Option – sign "Egida" on the right wing:

(sign color identical to the color of the field "3")
---
Egida colour design E (top):
Download the sample image – Microsoft Paint File (.PNG) to create your own color combination for Design

 E:

Option – sign "Egida" on the right wing:

(sign color identical to the color of the field "2" or "3")
---
Egida colour design F (top) – only for carbon edition:
Download the sample image – Microsoft Paint File (.PNG) to create your own color combination for Design

 F:

Option – sign "Egida carbon edition" on the right wing:

(sign color identical to the color of the field "2" or "3")
---
Egida colour design F (top) – only for carbon edition:
Download the sample image – Microsoft Paint File (.PNG) to create your own color combination for Design

 G:

Option – sign "Egida carbon edition" on the right wing: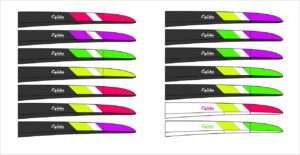 (sign color identical to the color of the field "1", "2" or "3")
---
Egida colour design H (top):
Download the sample image – Microsoft Paint File (.PNG) to create your own color combination for Design

H: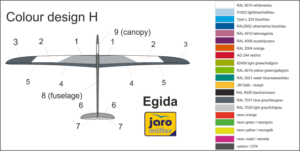 Option – sign "Egida" on the right wing: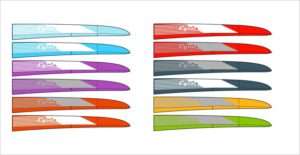 ---
Egida colour design J (bottom):
Download the sample image – Microsoft Paint File (.PNG) to create your own color combination for Design

J: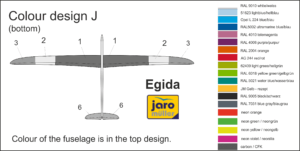 ---
Egida colour design J (bottom) – only for carbon edition:
Download the sample image – Microsoft Paint File (.PNG) to create your own color combination for Design

 K: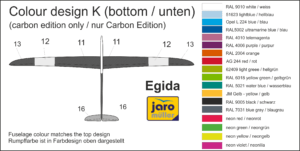 ---