Here it goes to: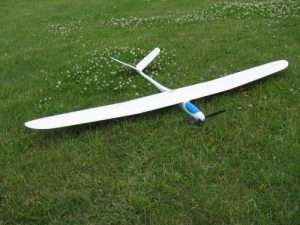 – The world-class classic among compact universal models!
– Has been popular, tried and tested for many years and "always with you".
– Simple construction, allround performance without flaps.
– Controlled functions: ailerons, rudder, elevator, (engine).
– Simple flight characteristics.
– Fits in many cars boots even assembled.
– Available in glider or electric variant:

– With the backpack available as an accessory to carry well on the mountains :

– Wing available in two versions:
 -"universal" interior strucure from glass fibre
 -"strong" interior strucure from carbon fibre (additional weight approx. 25 grams)
Technical parameters:
MINI ELLIPSE
electro
glider
allround
strong
allround
strong
wing span
    1466mm ( 4,8ft)
wing area
 22,6dm2 (2,44sqft)
wing airfoil
 RG15 mod.
V-tail area
          3,0dm2 (0,32sqft)
length
             830mm (2,72ft)
empty weight
420g (14,8oz)
445g (15,7oz)
410g (14,5oz)
435g (15,35oz)
RC equipment weight
60-70g (2,1-2,5oz)
 115-125g (4-4,4oz) – incl. ballast
ballast weight
0-20g  (0-0,7oz)
75g  (2,6oz)
power unit weight
200-240g  (7,0-8,4oz)
–
flight weight
680-730g (24-25,8oz)
705-755g (24,9-26,6oz)
600-610g  (21,1-21,5oz)
625-635g (22-22,4oz)
area load
30-32,5g/dm2
31-33,5g/dm2
26,5-27g/dm2
27,5-28g/dm2
New now: 
 – Servo mount and bowden cables for the v-tail completely glued in the fuselage:

– Cabin cover fitted with lock:

– Rudder cranks in the V-tail complete glued:

– Wiring for the aileron inserted inside the wing, incl. tightly bonded Multiplex connector:
– Complete accessories for servo steering.
.
On request with mounted servos and 2 drive units :
1) Motor MIG AC 400/16 + ESC Dualsky 12A + Graupner CAM FOLDING PROP 7×4″.
Lightweight design for thermal flying.
Weight 100 gramm, max. power ca. 100W.
Recommended battery 3S/1000-1200mAh.
Climbing power approx. 5m/s (100m in 20s). Small (7×4 "), aerodynamic in the gliding flight folding prop. Bat. 3S / 1000mAh allows approx. 12x climbing at a height of 100 m..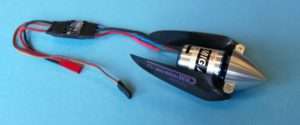 2) Motor MEGA ACn 16/15/5 + ESC Dualsky 30a + Graupner CAM FOLDING PROP 9×6″.
"Allround drive", approx. 20g extra weight compared to variant 1, which do not disturb at all in the more dynamic use!
Weight 120 gramm, max. power ca. 280W.
Recommended battery 3S/1200mAh.
The model climbs approx. 12.5 meters per second (100 m in 8s), having slightly more drag in glide through the also hinged prop. Bat. 3S / 1200mAh allows about 12 climbs to 100m height.
Regulator selectable either YGE 35 LVT (with telemetry), or Dualsky XC3012BA (cheaper).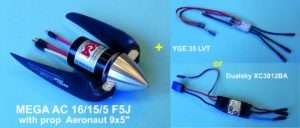 3) Motor MEGA ACn 16/15/5 F5J + CFK Klappropeller jaro müller 9×5″.
Dimensions, weight and performance same as variant 2.
Regulator selectable either YGE 35 LVT (with telemetry), or Dualsky XC3012BA (cheaper).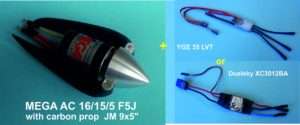 Equipped with carbon folding prop from our own production. This adapts better to the fuselage contour – see picture below: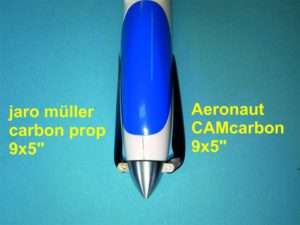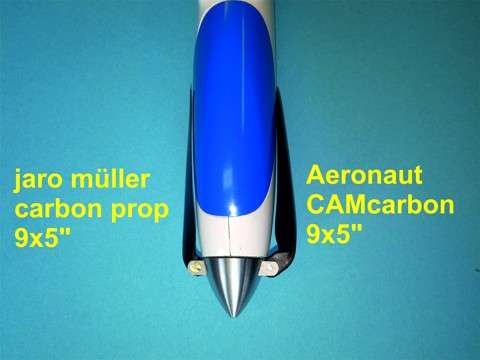 Folding propeller blades are also available separately.
We will be happy to advise you on the use of other engines (of course, even more when needed !)
Feel free to ask us for advise!
Photo gallery: