Elastino colour design
You can choose one of our colorful designs, or create your own design.
If you choose our design, please, enter the order number into the design for the top and bottom of model (for example: top design A3, bottom design J2) .
If you want to create your own color combination in specific color design, download the sample image – Microsoft Paint File (.PNG) and use the Microsoft Paint program (manual click here).
If you find it too expensive, just write us for example: "color design above A, color 1 red, 2 white, 3 JM yellow, 4,5,6,7, white, 8 red, 9 black. Color design below J, color 1,3,6 black, 2 white".
Please use only colors indicated in the sample image.
When creating your own color designs, please note the following:
The individual colors have different specific weights. The hardest are the neon paints, because they still have to be sprayed with a layer of white paint. The white paint is one of the heaviest paints. The lightest finish is carbon fiber with the clear coat applied. Because the weight is of enormous importance in an F5K model, we only paint the neon colors on small areas as shown in the prepared design. Please take this into account when choosing your own color combination!

In addition, for reasons of center of gravity, we recommend the V-tail only in carbon design.
Fuselage is available in carbon design only.
Do not forget the correct way to the top as well as bottom side.
---
Elastino colour design A (top):
Download the sample image – Microsoft Paint File (.PNG) to create your own color combination for design A: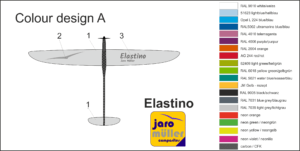 Elastino colour design B (top):
Download the sample image – Microsoft Paint File (.PNG) to create your own color combination for design B: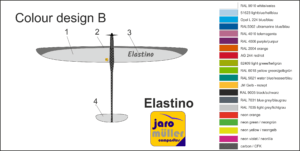 Elastino colour design C (top):
Download the sample image – Microsoft Paint File (.PNG) to create your own color combination for design C: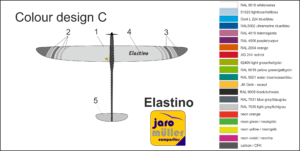 Elastino colour design U (bottom):
Download the sample image – Microsoft Paint File (.PNG) to create your own color combination for design U: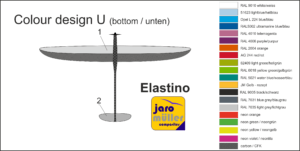 Elastino colour design V (bottom):
Download the sample image – Microsoft Paint File (.PNG) to create your own color combination for design V: