1) EGIDA allround, electro or glider.
Wing color red/white above, red below.
Fuselage color white (glider fuselage also possible).
V-tail color above and bellow white.
Second choice – a small color error on the left wing (see photo). Surface smooth.

Price with VAT: 1259.-€   1199.-€
2) EGIDA carbon edition electro.
Wing color carbon/orange/light blue 51623, carbon/orange below.
Fuselage color light blue 51623/carbon.
V-tail color light blue 51623 above, orange bellow.
Second choice – a pair of small dents on the left wing (not shown in photo).
Price with VAT: 1499.-€   1399.-€
3) V-tail Eldorado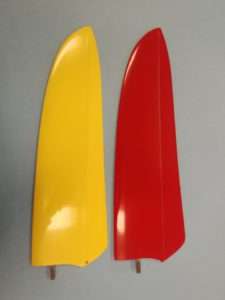 Color top/bottom: yellow / red
Price: 176.-€
---
---
Sellout- various components:
---
1) Various fuselage (

from left in the photo

):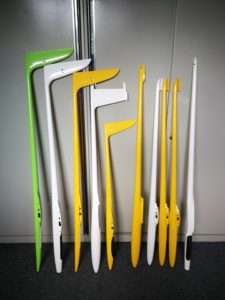 1) Espada RL glider, color 62409 light green………..250.-€
2) Espada RL electro, color white………………………….210.-€
3) Espada R glider, color yellow……………………………210.-€
4) Ellipse 2 glider, color white……………………………..190.-€
5) Espadita glider, color yellow…………………………….180.-€
6) Esprit glider, V-tail, color yellow………………………180.-€
7) Escape glider, V-tail, color white………………………140.-€
8) 2x Escape glider, V-tail, color yellow…………………..140.-€
9) Egida electro, color white, (servo installation slectable)…284.-€
10) Egida glider, color white, (not shown in photo)…284.-€
---
2) Wing parts Espada R / Espada RL:
Half-wing Espada R (

from left in the photo

)

:
1) Espada R, wing left, without flap, color top 62409 light green/51623 light blue ,color bottom 62409 light green………………………..400.-€
2) Espada R, wing left, with flap and aileron, color top yellow, color bottom 5002 ultramarine blue……………450.-€
3) Espada R, wing left, without flap, color top yellow, color bottom 5002 ultramarine blue……………….400.-€
Flaps left Espada R / Espada RL (

from left in the photo

):
1) Color top orange, bottom orange/5002 ultramarine blue…………………40.-€
2) Color top orange, bottom black /orange………………………………………….40.-€
3) Color top orange, bottom orange/white…………………………………………..40.-€
4) 2x Color top yellow, bottom red………………………………………………………40.-€
Flapps right Espada R / Espada RL (

from left in the photo

):
1) Color top yellow, bottom red……………………………………………………………..40.-€
2) Color top orange, bottom orange / black…………………………………….40.-€
Flaps right Espada R / Espada RL (

from left in the photo

):
1) Color top yellow, bottom red……………………………………………………………..40.-€
2) Color top orange, bottom orange /black…………………………………………..40.-€
Ailerons right Espada R / Espada RL:
1) Color top orange, bottom orange / black…………………………………….40.-€
---
3) X-tail Espada R / Espada RL:
X-tail Espada R / Espada RL – only 1 half (

from left in the photo

):
white / white……………………………….40.-€
yellow-red / yellow-red………………………..40.-€
yellow-red / yellow-red………………………..40.-€
red / white-red……………………………..40.-€
white-red / white-ultramarineblau…40.-€
ultramarine blue / yellow………………….40.-€
Orange-ultramarine blue / orange…..40.-€
white-sblsck/ orange-black…….40.-€
white-red/ white-red……………………..40.-€
X-tail Espada R / Espada RL –

complete left + right

(

from left in the photo

):
yellow / yellow………………………………………………………………………………120.-€
white / red……………………………………………………………………………………..120.-€
white-rot / red………………………………………………………………………………..120.-€
orange-light blue 51623 / orange-light blue 51623……………………………..120.-€
white-red / white-red………………………………………………………………………120.-€
white / red………………………………………………………………………………………120.-€
light blue 51623-ultramarine blue /light blue 51623-ultramarine blue…..120.-€
telemagenta / light green 62409-white………………………………………………120.-€
red / red………………………………………………………………………………………….120.-€
X-tail Espada R / Espada RL large (7qdm) – only 1 half:

red / red-light blue 51623……………30.-€
X-tail Espada R / Espada RL large (7qdm)- complete left+right:
white-red / white-black……………100.-€
---
4) X-tail Espadita:
X-tail Espadita – only 1 half:
yellow / red………………………………….35.-€
yellow / red………………………………….35.-€
X-tail Espadita – complete left+right:
light blue 51623 – yellow / light blue 51623………………99.-€
Rudder Espadita: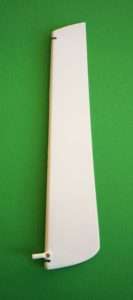 Color white……………………………….28.-€
---
5) Tails Escape / Elita:
X-tailEscape / Elita – only 1 half (

from left in the photo

):

yellow / ultramarine blue……………………………………………………………….30.-€
white / purple……………………………………………………………………………….30.-€
red/ white…………………………………………………………………………………….30.-€
red/ yellow……………………………………………………………………………………30.-€
X-tail / Elita – complete left+right (

from left in the photo

):
white / water blue 5021……………………………………………………………………….80.-€
yellow / ultramarine blue…………………………………………………………………….80.-€
yellow green 6018/ yellow green 6018……………………………………………………80.-€
yellow green 6018/ yellow green 6018……………………………………………………80.-€
white / purple……………………………………………………………………………………..80.-€
yellow / ultramarine blue……………………………………………………………………..80.-€
yellow / red…………………………………………………………………………………………80.-€
Rudder Escape / Elita (

from left in photo

):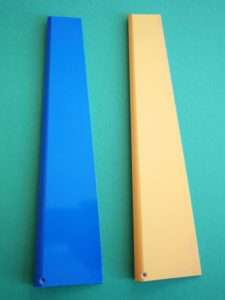 opel L224 blue…………………………………………..20.-€
yellow………………………………………………………..20.-€
---
6) Rudder Ellipse 2 GT: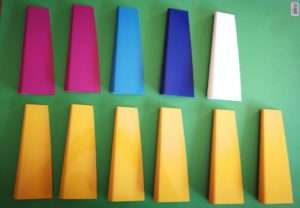 purple 4006………………………………………………..20.-€
purple 4006………………………………………………..20.-€
Opel L224 blue…………………………………………….20.-€
ultramarine blue………………………………………….20.-€
white………………………………………………………….20.-€
yellow…………………………………………………………20.-€
yellow…………………………………………………………20.-€
yellow…………………………………………………………20.-€
yellow…………………………………………………………20.-€
yellow…………………………………………………………20.-€
yellow…………………………………………………………20.-€
---
7) Rudder Ellipse 2 ET: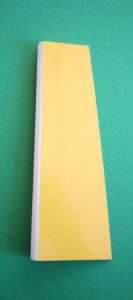 yellow………………………………20.-€
---
10) V-tails Mini Ellipse (

from left in the photo)

:
Color top white, bottom yellow……………………………………………..58.-€
Color top purple 4006, bottom white/black…………………………….58.-€
Color top yellow, bottom ultramarine blue………………………………58.-€
Color top yellow, bottom  purple 4006 (not shown in photo)…….58.-€